Tourist Attractions in Ooty
Positioned at 7000 feet above the sea level, Ooty is the most pleasing and charming hill station of Tamil Nadu. Tourist attractions in Ooty attract crowds in huge numbers from every corner of the world. Ooty tourism places include sprawling grasslands, extensive tea gardens, dense forest and lofty mountains. The beautiful Nilgiri Hills provide a perfect backdrop to explore the natural scenic beauty of this hill station. The outstanding climatic conditions in Ooty make one feel like living in another world. Wide stretches of plantations, lovely lakes, Blue Nilgiri Mountains, colorful gardens and cascading waterfalls offer feasts for the eyes. There is no best time to visit Ooty as the weather is pleasant all around the year. If you are tired from the hustle-bustle of daily life, then Ooty is an ideal escape offering pollution free and pleasant atmosphere that one just cannot find in any other part of the country.
Monsoon season and winter season are the best seasons to indulge in the beauty of this hill station. Affectionately referred to as 'Queen of the Hill Station', Ooty boasts numerous tourist attractions. Tourists can explore various Ooty tourist places for savoring the enchanting beauty of this popular tourist resort in India. Botanical Gardens, Rose Garden, Dophin's Nose, Doddabetta Peak, Ooty Lake and Pine Forests are the most favored tourist attractions in Ooty. These attractions in Ooty make this hill station a land of picturesque picnic spots.
A lot of tourist spots in Ooty are dotted with dense foliages and sparkling lakes. Tourists can enjoy romantic paddle boating on the Ooty Lake or can view some rare flowers, plants and giant trees in the world famous Botanical Gardens. A must visit place is the Avalanche Lake which is undisputedly synonymous to solitude. Apart from natural beauty, tourists can also explore the wildlife of Ooty. The Mudumalai Wildlife Sanctuary is an ideal place for wildlife lovers where tourists can see rhinos, deer, beautiful birds, bison, elephants and even canines. Don't forget to take a camera with you for clicking exotic pictures of the wildlife. The delicious local food of Ooty will add more charm to your holiday.
list of popular tourist places in Ooty


Botanical Gardens
The foundation stone of Government Botanical Gardens was laid in the year 1847. The State's Horticulture Department maintains these gardens, which span across 22 acres of lush green property. Botanical Gardens are home to more than 650 plant species including a 20 million years' old fossil tree. This garden is quite popular for nature walks amidst lush greenery. Read More
Ooty Lake
Ooty Lake, created in 1825, is an artificial lake that stretches up to 2.5 kilometers in the shape of the letter L. Visitors have the option of boating, fishing or simply engaging in any other outdoor activity of their choice. the Ooty Lake is the venue of boat races and boat pageantry..Read More
Doddabetta Peak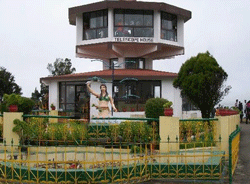 Positioned at 2,623 meters above sea level, Doddabetta Peak is the highest elevated point in Ooty and commands the best views of this scenic hill station tours.It is just 10 kilometers away from Ooty and quite popular among photographers owing to its natural and scenic beauty..Read More
Nilgiri Mountain Railway
For an amazing journey, covered throughout with picturesque sceneries from Ooty to Mettupalayam, the Nilgiri Mountain Railway is the perfect option for tourists. The magnificent rail route connects the stunning hilly areas of Ooty and Coonoor from the beautiful plains. Known for being the steepest rail route of Asia, Nilgiri Mountain Railway treats the tourists with mouthwatering views of Nilgiri Hills!...Read More
Lamb's Rock
It is also a popular vantage point in Coonoor tour and located 8 kilometers away from this hill station. It is quite popular for offering spectacular views of Coimbotore plains and tea & coffee states on the slopes of the Nilgiri Hills.There are many Tourist attractions in and around Ooty. One amongst them is the Lamb's Rock in Ooty..Read More
Kodanadu's View Point
Located 18 kilometers east of Kotagiri, right along the periphery of the Nilgiris, Kodanadu is a famous vantage point offering breathtaking views of the deceivingly quiet moyar river adjoining expansive tea estates. The watchtower here offers a amazing view of the towering Rangasamy peak..Read More
Weekend trips and excursions
Although Ooty can easily keep you engaged for several days, but if you wish to explore greenery and beauty beyond the precincts of this hill town, there are several tourist spots around Ooty like Mudumalai National Park, Kotagiri, Sim's Park, Dolphin's Nose and Coonoor. All these places are within a couple of hours' drive from Ooty and are often planned as extended detours.
Mudumalai Wildlife Sanctuary
Declared as a tiger reserve and a part of the Nilgiri Biosphere, Mudumalai National Park is situated 67 kilometers away from Ooty. This wildlife sanctuary is home to a wide variety of flora and fauna species such as Asian elephants, sambhar, chital, and flying squirrels. The park also acts as a protected area for tigers and leopards. This sanctuary is a paradise for avifauna species such as malabar trogon, colorful parakeets, black woodpecker and crested hawk eagle. The best way to explore this park is through elephant safari..Read More
Dolphin's Nose
Located 1000 feet above the sea level, Dolphin's Nose offers panoramic views of the areas Coonoor. The tip of the peak resembles a dolphin's nose and has a massive rock formation. One can also see the Catherine Falls cascading down from here. Read More
Kalhatty Waterfalls
Located 13 kilometers from Ooty, 100 feet above the sea, along the Kalhatty slope, Kalhatty Falls is an absolute visual retreat. The water cascades down from a height of 122 meters. Besides gazing at these waterfalls, one can explore the Kalhatty-Masinagudi slopes. They are home to several wild species such as sambhar, bison, panthers and wild buffaloes. Read More
Coonoor
One of the most renowned hill stations close to the Nilgiris, Coonoor is surrounded by tea plantations. Elevated 1839 meters above sea level, Cononoor is famous as a great picnic spot and scenic surroundings. The weather remains pleasant here throughout the year.. Read More
Sim's park
Spanning across 12 hectares, Sim's Park is believed to be the home of 1000+ plant species which includes flowering plants, ferns, shrubs and pines. The park has a glass house featuring various ornamental plants and flowers. On the other side of the park, there is a well maintained rose garden..Read More
Kotagiri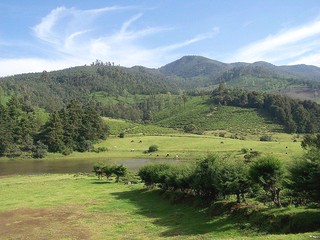 Situated at an altitude of 1793 meters, located 28 km East of Ooty, Kotagiri is the oldest hill station in the Nilgiris. Its popularity as a tourist destination has not withered away with time. To escape the busy city life, the gorgeous hill resort flushed with lush green tea estates is the best option for tourists. Some popular attractions in Kotagiri include Longwood Shola, Kodanad view point and Rangaswamy pillar rock...Read More
Mukurthi Peak & National Park
Situated at a distance of 40 km from Ooty, granite rock face, Mukurthi Peak expands from an elevation of 200 m. From upland to plains, the peak slope down to 1500 m. At a very short distance, the Mukurthi National Park is also located, which serves shelter for a significant population of Nilgiri Tahr....Read More
Avalanche Lake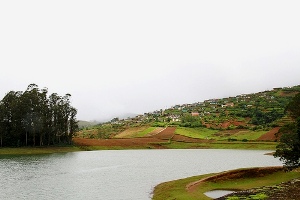 Avalanche Lake, situated at a distance of 28 km from Ooty, attracts tourists from all over the world. Surrounded by the unyielding terrains filled with blossoming flowers including orchids, rhododendrons and magnolias, Avalanche Lake is perfect for fishing. Tourists interested in fishing activities can obtain the permission beforehand!...Read More
Events and festivals
Being a regional center of cultures of Karnataka, Tamil Nadu and even Kerala, Ooty exhibits a multitude of events and festivals dotting its cultural calendar throughout the year. The state government is particularly forthcoming in promoting cultural events and welcomes tourists to these events. We have dedicated section on all the important Events and Festivals in Ooty's cultural calendar. You can read more about them here...Read More