Tourist Attractions in Ooty
Fondly known as the "Queen of the Hill Stations", Ooty aka Udhagamandalam is a popular hill station in the backdrop of the Nilgiri hills station tour. It is positioned 7000 feet above the sea level and boasts of numerous tea estates. Tourists visiting this hill station are welcomed by the lofty mountains, sprawling grasslands, dense forests and tea gardens. Ooty has several places that you can visit such as the Dodabetta Peak, the Botanical Gardens and Ooty Lake among others.
Most popular places in ooty
Botanical Gardens
The foundation stone of Government Botanical Gardens was laid in the year 1847. The State's Horticulture Department maintains these gardens, which span across 22 acres of lush green property. Botanical Gardens are home to more than 650 plant species including a 20 million years' old fossil tree. This garden is quite popular for nature walks amidst lush greenery. In case you happen to be in Ooty during May, make sure you visit the summer festival held annually. The festival enjoys the great patronage and is attended by renowned artists who participate in various cultural programs listed in the festival's itinerary. The locals participate with equal enthusiasm in the popular flower show.Read More
Ooty Lake
Ooty Lake, created in 1825, is an artificial lake that stretches up to 2.5 kilometers in the shape of the letter L. Visitors have the option of boating, fishing or simply engaging in any other outdoor activity of their choice. Please be minded that you'll have to get permission for fishing in this area.Read More
Dodabetta Peak
Positioned at 2,623 meters above sea level, Dodabetta Peak is the highest elevated point in Ooty and commands the best views of this scenic hill station tours. It is just 10 kilometers away from Ooty and quite popular among photographers owing to its natural and scenic beauty.Read More
Lamb's Rock
It is also a popular vantage point in Coonoor tour and located 8 kilometers away from this hill station. It is quite popular for offering spectacular views of Coimbotore plains and tea & coffee states on the slopes of the Nilgiri hills.Read More
Kodanadu's View Point
Located 18 kilometers east of Kotagiri, right along the periphery of the Nilgiris, Kodanadu is a famous vantage point offering breathtaking views of the deceivingly quiet Moyar river adjoining expansive tea estates. The watchtower here offers a wonderful view of the towering Rangasamy peak.Read More
Weekend trips and excursions
Although Ooty can easily keep you engaged for several days, but if you wish to explore greenery and beauty beyond the precincts of this hill town, there are several tourist spots around Ooty like Mudumalai National Park, Kotagiri, Sim's Park, Dolphin's Nose and Coonoor.
Mudumalai Wildlife Sanctuary
Declared as a tiger reserve and a part of the Nilgiri Biosphere, Mudumalai National Park is situated 67 kilometers away from Ooty. This wildlife sanctuary is home to a wide variety of flora and fauna species such as Asian elephants, sambhar, chital, flying squirrels and barking deer. The park also acts as a protected area for tigers and leopards. This sanctuary is a paradise for avifauna species such as Malabar Trogon, colorful parakeets, Black woodpecker and crested hawk eagle. The best way to explore this park is through elephant safari.Read More
Kotagiri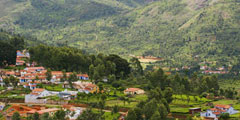 Nestled at an altitude of 1793 meters, Kotagiri is a small hamlet, located 28 kilometers east of Ooty. Despite being the oldest hill station in the Nilgiris, it is only the third most popular tourist destination in this are, after Ooty & Coonoor tour. This stunning hill resort, with its lush green tea estates, is perfect for tourists who wants to get rid from the hustle-bustle of city life. Kodanad view point, Rangaswamy pillar and rock, Elk fall and Longwood Shola are some famous attractions in Kotagiri.
Kalhatty Waterfalls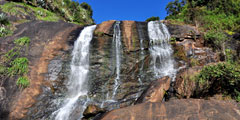 Located 13 kilometers from Ooty, 100 feet above the sea, along the Kalhatty slope, Kalhatty Falls is an absolute visual retreat. The water cascades down from a height of 122 meters. Besides gazing at these waterfalls, one can explore the Kalhatty-Masinagudi slopes. They are home to several wild species such as sambhar, bison, panthers and wild buffaloes. Read More
Sim's park
Spanning across 12 hectares, Sim's Park is believed to be the home of 1000+ plant species which include flowering plants, ferns & shrubs and pines. If you happen to visit this place in May, make sure to attend the annual 'Fruit Show OOty'. Read More
Dolphin's Nose
Located 1000 feet above the sea level, Dolphin's Nose offers panoramic views of the areas Coonoor. The tip of the peak resembles a dolphin's nose and has a massive rock formation. One can also see the Catherine Falls cascading down from here. Read More
Mukurthi
Located 40 kilometers away from Ooty, Mukurthi peak is a granite rock face that expands from an elevation of 200 meters and slope down to 1500 meters from upland to plains. Mukurthi National Park, located close to the peak, is home to a significant population of Nilgiri Tahr.
Avalanche
Located 28 kilometers away from Ooty, Avalanche Lake is a popular tourist destination in the Nilgiris district. The lake is encompassed by undulating terrains filled with blooming flowers such as magnolias, rhododendrons and orchids. The lake is perfect for fishing and if you are really willing for it, go and obtain permission in advance.
Coonoor
One of the most renowned hill stations close to the Nilgiris, Coonoor is surrounded by tea plantations. Elevated 1839 meters above sea level, Cononoor is famous as a great picnic spot and scenic surroundings. The weather remains pleasant here throughout the year. Read More...
Events and festivals
Tea and tourism Festival
If you happen to visit Ooty in the month of January, make sure to go to the Tea & Tourism festival. Here you can sip your favorite drink & taste some finely brewed teas.Read More
Makar Pongal
Makar Pongal is a harvest festival celebrated in the month of January in Ooty. It is celebrated to offer thanks to the sun god & the rain god for blessing their lands with greenery & good harvest.Read More
Flower Show
Started in the year 1896 by Nilgiris Agri-Horticultural Society, flower show held every year in May at the botanical gardens and attracts 1,50,000 tourists every year.Read More
Summer Festival
The annual Summer Festival is the most popular calendar event in Ooty. The Festival spans for a fortnight and features competitions, shows and exhibitions inviting participation from locals and visitors. The Summer Festival is a major crowd puller - attracting footfall in thousands. Read More
Horse Race Ooty
It's time again for the world famous horse race in Ooty, which is here to entice all adventure lovers and help people get a glimpse of some of the best horses in the country. Resolute to begin on the 14th of April every year, this time it would be the 127th season of this race.. Read More
TOURIST ATTRACTIONS IN OOTY