How to Reach Bandipur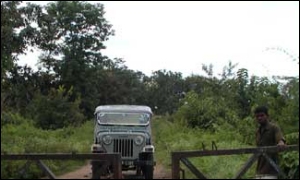 Situated in the Southern Indian state of Karnataka, Bandipur National Park is one of India's most vast tracts of preserved forests. Known as the Tiger Reserve, tourists and wildlife lovers travel to the reserve forest to enjoy the flora and the fauna that lies in the shadow of the looming Western Ghats. If you are wondering How to Reach Bandipur you can seek help of tour operators or log on to Ootyindia to take a trip to Bandipur.
About 215kms from Bangalore among the magnificent Western Ghats on the Mysore-Ooty highway, close to Ooty, a trip to Bandipur is a must to enjoy its wildlife sanctuary. Surrounded by its hilly forests and waterholes, it is a beautiful place to go holidaying. Situated in the foothills of Nilgiri hills, the sanctuary is a home to a significant number of tigers and elephants. Herds of deer, gaurs and the Indian wild bull are pleasant sight in the elephant safari that the reserve offers. Squirrels and birds are in abundant while the long tailed monkeys that hop around from branches add to the thrill in the safaris.
The months between April to October are the best time to visit Bandipur. If you are wondering how to reach Bandipur you can travel to Bangalore by air or take the rail head till Mysore and then take the road. Travelling to Bandipur from Mysore or Ooty by road is about 80 kms while it is 215 kms from Bangalore. The sanctuary is located in the highway connecting Mysore and Ooty. It is convenient to reach Bandipur by buses that ply between Ooty and Mysore and pass by the forest reserve. It takes about 2 and half hours from Mysore to reach Bandipur Wildlife Sanctuary while it takes 3 hours from Ooty.
Throughout the year the climate in Bandipur is warm and comfortable with temperature ranging from 24 to 28°C. Winters are brief and lasts from October to January with temperature around 19°C. Monsoon start from June to September and rains are short and frequent. Light cotton clothing during summers and warm woolen garments are required for the winters. Carrying raincoats and umbrellas are important during monsoons.