Excursions from Bandipur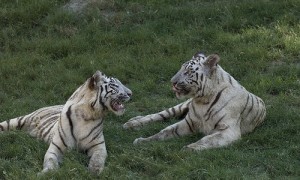 About 215kms from Bangalore among the magnificent Western Ghats on the Mysore-Ooty highway, close to Ooty, a trip to Bandipur is a must to enjoy its wildlife sanctuary. Surrounded by its hilly forests and waterholes, it is a beautiful place to go holidaying. Situated at the foothills of Nilgiri hills, the sanctuary is a home to a significant number of tigers and elephants. Herds of deer, gaurs and the Indian wild bull are pleasant sight in the elephant safari that the reserve offers. Once a beautiful reserve created in 1930s from the Maharaja's Voodiyar's hunting lands, was later expanded with the Nagarhole National Park, and Wayanad and Madumulai Sanctuaries. Excursions from Bandipur will take you to Nagarhole, Madumulai and Wayanad National parks that lie close to Bandipur forest. A reservoir and a dam divide Bandipur from the Nagarhole reserve. It is one of the interesting tourist spots to explore.
Nagarhole Rajiv Gandhi National Park is 644 sq km in area. In 1974 its area was extended and the Mysore forest was included in the sanctuary. Originally it was a game reserve for the Maharajas of Mysore and was later renamed to Nagarhole Rajiv Gandhi National Park. Marked with deciduous forest the Nagarhole Rajiv Gandhi National Park offers a beautiful landscape to the visitors. As you walk along the pathway led by the guide you may spot pug marks of tigers, panthers, sambars, leopards or chitals. Jungle cats, jackals and wild dogs are often on the prowl. A jeep safari arranged by the forest authorities would take you to the location where you can spot sloth bears, elephants and about 250 species of birds.
Excursions from Bandipur will also take you to the Madumulai Sanctuary which is also a wildlife enthusiast's paradise. Wayanad National Park close to Bandipur houses some of the rare animal and plant species.
Trekking along the tracks of the Western Ghats can be an exhilarating experience for the trekkers as the area is infested with numerous waterfalls and wildlife preserves. Trekkers enjoy the flora and fauna along the southern most parts of the Sahyadri hills in North Kanara to the sholas of the Coorg.