Excursions from Mysore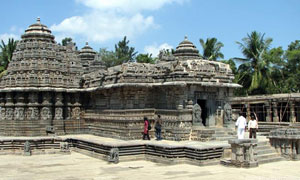 All the places for excursions from Mysore are worth a visit and are among the prime attractions while on a tour to Ooty. One of the famous destinations around Ooty, Mysore is renowned as a craft center with a wide range of ivory, sandalwood, rosewood and teak carvings and furniture available at its numerous shops. A prime attraction of the city is the 10-day Dussehra festival. This colorful festival is celebrated with exuberance in the months of September-October. This charming city is dotted with several tourist destinations such as the Brindavan Gardens, St. Philomena's Church, Chamundi Hills, Maharaja's Palace, Chamundeswari Temple, Srirangapatnam, etc.
There are numerous places that are thronged by hordes of tourists round the year while on a tour to Mysore. The excursions from Mysore in India take you to destinations away from the main city. You can go for exciting excursions from Mysore at the following places -
Somnathpur Temple :- This star-shaped temple at Somnathpur, situated 35 km away, manifests the Hoysala architecture beautifully. This well-maintained temple is adorned with intricately sculpted panels and friezes.
Bandipur Tiger Reserve :- Located 80 km away, this Tiger Reserve has open forests and provides facilities for viewing wildlife from elephant back.
Nagarhole National Park :- This well-known wildlife reserve is 90 km away from Mysore. Its dense deciduous forests provide shelter to faunal species like tiger, leopard, gaur, elephant, sambar, spotted deer, wild boar, pangolin, languor, macaques and about 250 exotic species of avifauna including the Malabar Pied Hornbill and the Great Black Woodpecker.
For you to visit the Excursions from Mysore, Ooty India can help you with information about the Excursions from Mysore. Just get in touch with us for more information about Excursions from Mysore.