Tourist Attractions Kodaikanal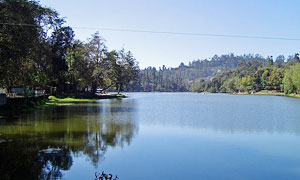 One of the famous destinations around Ooty, Kodaikanal is dotted with a plethora of tourist attractions. The tourist attractions in Kodaikanal beautify this picturesque hill station in Tamil Nadu. Occasionally referred to as the Princess of Hill stations, Kodaikanal is an ideal destination to visit while on a tour to Ooty. Perched at an altitude of about 2133 m amidst the folds of the Pali hills, the hill town is renowned for the Kurinji flower, which blooms once in 12 years. Kodaikanal is also known for its internationally reputed educational institutions, as also for its fresh fruits and plums.
There are several places worth a visit while on a tour to Kodaikanal. The most popular tourist attractions of Kodaikanal are -
Berijam Lake :- Positioned in the centre of Kodai town, nearly at a distance of 21 km from the bus stand, this lake is one of the scenic picnic spots in the region.
Bryant Park :- Well-known for its flowers, hybrids and rafts, this beautiful park is situated on the eastern side of the Berijam Lake.
The Glasshouse :- It hosts the annual horticultural show held in the month of May.
Shenbaganur Museum :- This is one of the finest orchidoriums in India with more than 300 species of orchids and home to a wide variety of birds.
Kodaikanal Lake :- Set amidst lush greenery, this stunning man-made lake spreads out in a star shape over sixty acres. You can enjoy boating and angling facilities here.
Pillar Rocks :- This 122 meter structure provides a bird's eye view of the picturesque Kodai valley.
Coaker's Walk :- This steep slope on the southern side of Kodai town derives its name from Lt. Coaker, who prepared the map of Kodai.
Silver Cascade waterfall :- You can also visit this captivating waterfall nearby, located 8 km away on the Ghat Road.
For you to visit the tourist attractions in Kodaikanal, Ooty India can help you with information about the tourist attractions in Kodaikanal. Just get in touch with us for more information about tourist attractions in Kodaikanal