Shopping in Kodaikanal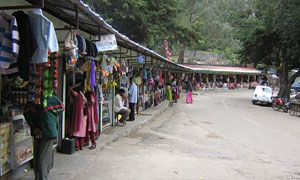 Kodaikanal is a lovely hill station frequented by a large number of tourists. Even though it is not one of the greatest shopping destinations, it would definitely be worthwhile to set aside a small part of your money for Shopping in Kodaikanal. The experience of moving around the small street side shops, seeing the wide variety of objects so beautifully displayed, bargaining and finally purchasing has its own share of charm and should definitely not be missed when on a trip to Kodaikanal.
When Shopping in Kodaikanal, one can purchase small artifacts that not only make wonderful gift items but also serve as souvenirs and decorative pieces.
Kodaikanal is well known for homemade chocolates, marshmallows and cheese. There are many bakeshops in the town selling these items. You must not only savor them yourself but also take some back home for other family members to relish. Eco-Nut in PT-Road has a mouth watering collection of Brown Bread, Jam, Peanut, Butter, Cheese and Muffins.
If you believe in Aromatherapy, Kodaikanal is definitely one of the best paces for you. There are many shops which sell natural products that include a vast range of oils and herbs. It is best known for Eucalyptus oil and when out for Shopping it is certainly one of the best collectible items.
Handloom items and several other handicrafts that include exquisite embroidery work adorn the shops of Kodaikanal. Anyone is sure to feel interested in purchasing them. When Marketing in Kodaikanal, tourists can also pick up dried flowers. These dried flowers will surely enhance the look of your drawing room.
Warm clothes are also found in plenty in Kodaikanal. When Shopping in Kodaikanal, make sure that you buy some woolen garments. They are pretty reasonably priced.
When you consider Shopping in Kodaikanal, some of the places that you must make it a point to drop into are the Khadi Emporium, Handloom Co-operative Stores, Travancore Crafts Work, Government Sales Emporium, Kurinji Mini Supermarket, Spencer and Company. At Anna Salai, the Kashmir Handicrafts Emporium sells beautiful Shawls, Jewelry, Leather Items, Bone and Walnut articles. It is also well worth a visit for all shopaholic.