Excursions from Coimbatore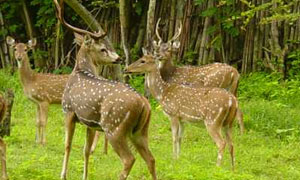 The second largest city of Tamil Nadu – Coimbatore is one of the fastest growing cities in India. Coimbatore is the second largest city of TamilNadu and one of the fastest growing cities in India. Nestled at the foothills of the Nilgiri Hills, Coimbatore is a treasure trove of breathtaking natural beauty and one of the most popular tourist places in South India. Endowed with a diverse flora and fauna, Coimbatore is well known for its pleasant climate, idyllic atmosphere, cosmopolitan outlook and private enterprise. Besides being a city doted with magnificent temples and numerous other tourist attractions, Coimbatore is also a perfect base to embark on Excursions from Coimbatore and visit some of the popular tourist places around.
Some important destinations to be visited on Excursions from Coimbatore are:
Annamalai Wildlife Sanctuary
Located near Pollachi at a distance of about 90 k from Coimbatore, the Annamalai Wildlife Sanctuary is one of the must-visit places on weekend getaways from Coimbatore. The sanctuary lies at an altitude of 1400 meters in the Western Ghats, and is home to an enchanting variety of birds and animals like the elephant, gaur, tiger, panther, sloth bear, deer, wild bear, pangolin, black headed oriole, green pigeon and civet cat. The Amaravathy reservoir in the Annamalai houses a large number of crocodiles.
Madumalai Wildlife Sanctuary
Located at about 67kms from Coimbatore, this Wildlife sanctuary, with its rich and varied flora and fauna, is home to numerous rare species of birds and animals. You can easily spot animals like elephants, giant squirrels, sambhar, chital, barking deer and flying squirrels and birds including colorful parakeets, black woodpecker, Malabar trogon and crested hawk eagle.
Siruvani Waterfalls
The Siruvani waterfalls and dam is located about 37 km to the west of Coimbatore city. The scenic beauty of the site coupled with the panoramic view of the dam and the falls make Siruvani one of the most popular tourist destinations around Coimabtore.
Thirumoorthy Temple
This temple is situated about 20 km from Udumalpet on the Palani-Coimbatore Highway. Lying at the foot of the Thirumoorthy Hills adjoining the Thirumoorthy Dam, the temple is largely frequented by tourists on excursions from Coimbatore.
Bhavani
The Sangameshwarar temple at Bhavani - located at the confluence of the rivers Bhavani and Cauvery – is also referred as Tiruveni of South India. An important pilgrim center for the Hindus, the temple houses Lord Sangameshwarer and His consort Vedanayaki as its presiding deity.